FREE SHIPPING on all orders shipped within the continental U.S. Unique & hand-forged by artists, not machines. Shoreline Ornamental Iron is a veteran-owned business!
We deliver anywhere in the Continental U.S. If you have a need to ship anywhere else, please contact us for pricing.
Free shipping anywhere in the Continental U.S. Shipping iron artwork isn't cheap. Let us worry about that.
We care about your safety. We process all transactions through names you trust like Square and PayPal. All transactions are encrypted end-to-end using SSL technology.
Ironclad Customer Service
Do You Have a Custom Hand-Forged Need? We love a challenge! Shipping trouble?  That's no trouble at all. Contact us today with any and all inquiries about our products and service.
Durable, Hand-Crafted,
&

Unique Wrought Iron Corbels and Home Decor
Shoreline Ornamental Iron forges iron decor of the highest caliber for customers who appreciate quality, durability, and the inherent beauty of metal manipulated by artists, not assembly lines.
Wrought Iron Shelf Brackets
Our hand-forged iron shelf brackets or wrought iron shelf brackes offer an unmatched combination of form and function.
Buy the right size for your needs and our iron angle brackets will gladly stand the tests of time and gravity for decades. They're an excellent way to add storage and decorative shelves to your home or business while preserving the class and quality of your space.
Iron Home Decor-Along with Iron Brackets
We craft a variety of custom wall-mounted sconces & candle holders, cast iron crosses, and other types of metal wall decor. Our products reflect our personal style. Every piece we create reveals the passion of its creators.
Shoreline Ornamental Iron's unique, hand-forged angle brackets, wrought iron decor, such as, wrought iron candle wall sconces and home decor is handmade in our studio in Southern California.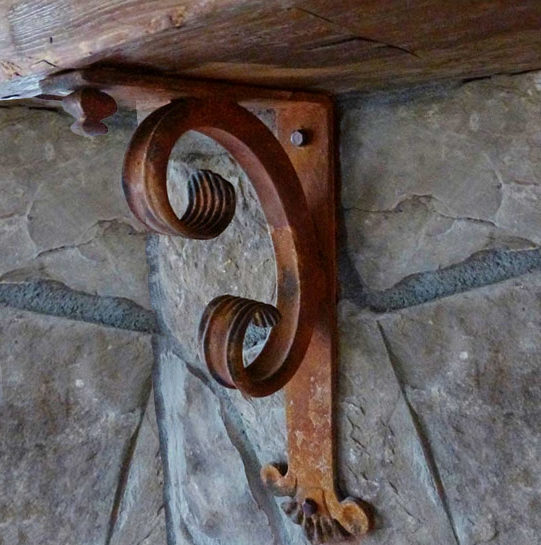 1
Attention to Detail
Our iron angle brackets are forged with equal attention to function and form.
2
Finish Options
All products come in a variety of finish options to match your existing home decor.
3
Strength & Stability
Our iron angle brackets aren't just for show: they're ready to carry the load of your shelves, mantles, and more.