About Shoreline Ornamental Iron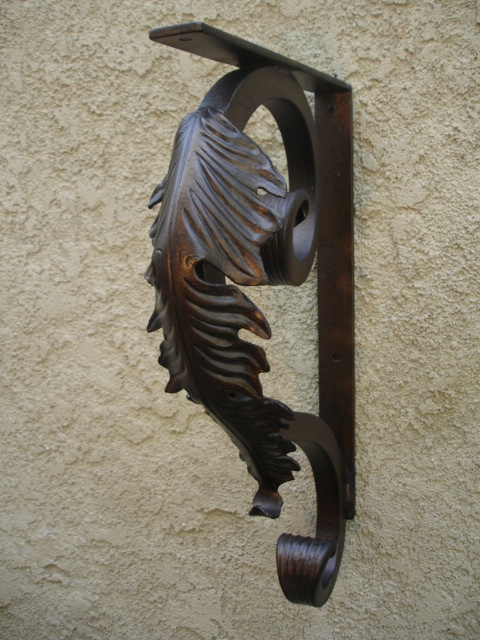 Like so many successful businesses, the idea for Shoreline Ornamental Iron developed out of necessity. We were looking for hand-forged wrought iron brackets for our outdoor living space. Our search left us empty-handed.
Not one's to be deterred we decided to make our own. We wanted brackets with an unmatched combination of design, function, and movement. With that, Shoreline Ornamental Iron was born. In addition to the wrought iron angle brackets that launched our business, we now offer hand forged wrought exterior/interior wall decor, which includes candle holders, sconces, and cast iron crosses.
The Shoreline Ornamental Iron Studio
The Shoreline Ornamental Iron studio is in Southern California, where outdoor living comes with the territory! Finding good quality furnishings for our outdoor living space has been an exciting challenge. We're pleased to share our love of the outdoors with others!
All of our hand-forged products are made start-to-finish at our Southern California studio. We hand-forge each iron piece and work it into a unique finished product. Metal patinas are hand applied so no two pieces are exactly alike. Through experimentation, we've developed finishing formulas that give our ornamental iron a variety of unique and elegant looks including aged (in the case of the Antique Patina Finish and the Antique Bronze Finish), and a beautiful bronze finish.
We're constantly updating our product line and searching for products we feel our customers are looking for and would be pleased to have in their own outdoor space.
Contact Shoreline Ornamental Iron
We hope you enjoy your experience shopping on our site. Please feel free to drop us a line even if it's just to say hello.
Earl and Janis Opie/ Owners
Shoreline Designs/Shoreline Ornamental Iron
2190 Temple Avenue
Long Beach, California 90804
Toll FREE Phone: 866-478-1918
This Website is a Veteran Owned Business U.S.A.