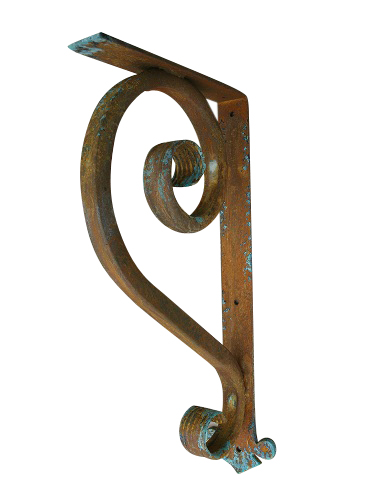 Give Counter Tops, Shelves, Mantles, Outdoor Awnings, Arbors and Pergolas the Support they need with Decorative Metal Corbels.
What makes a hero and how do you become a hero? A hero is defined by what someone has done and what they continue to do. Being heroic can mean a lot of things to different people.
Finding right size angle brackets for your beautiful counter top, mantel or shelf can make you a hero in the eyes of friends and family. And, finding stunning, remarkably strong, unique angle brackets …well…let's just say you have come to the right place. And, yes, let's make you the hero in this story.
We have lots of brackets in lots of sizes, finishes and styles. We have categorize them in sizes to help make your shopping experience easier and enjoyable. We are at your service and want to provide you with the best quality and craftsmanship in hand crafted wrought iron angle brackets.
Just to give you a bit more confidence in ordering from us, read what Robert H. from Seattle, Washington had to say. "In addition to the high product quality, I was very impressed with the customer service. The custom production process can take a little bit longer, so their staff went above and beyond to keep me informed and assured. It was a great experience to purchase from them." We appreciate Robert for taking the time to give us his comments.
Just a few benefits in ordering your angle brackets from us-
It's Handmade – Who makes things by hand anymore? Answer- We do!

Each Iron Angle Support Bracket is the Best quality & Craftsmanship for Best Performance

Each Decorative Metal Bracket is Heavy duty for strong and long lasting support

Your brackets are hand finished for quality, appearance and individual character

Made here in the U.S.A.

Guarantee for 100% Satisfaction

No Shipping Cost to you- Yes…that's right-Ships Free to anywhere in the Continental U.S.A.

Need some Help? Give us a call! We can recommend a bracket and best size for you.

We are available by telephone for one-on-one assistance
Allow us to make you the hero in your search for the right iron angle bracket support.
Purchase angle brackets for decorative detail in your home improvement project. For instance, add detail to your outdoor awning or pergola by installing our iron angle brackets in the corners for a great look. Add metal corbels under your upper kitchen cabinets for decorative feature.
Our finishes are ideal for indoor and outdoor use as they protect the iron in indoor and outdoor conditions.
For Best Support & Appearance-
Sizing and Placement of Brackets-
When ordering brackets, the top support bar should be 1-2 inches shorter, than the depth of the surface it is supporting, for best support and appearance.
As a rule- most surfaces need 1 bracket per every 24-30 inches for proper support.
We understand craftsmanship is different from mass production and each of our products are handmade and hand finished. This is what makes them unique and different. No two shelf brackets are exactly alike. We're glad we can offer iron products with such character.
Have a question? Just pick up the phone and give us a call. We are here willing to work with you on your project or if you just need more clarity about what to order.
FREE SHIPPING
Display 15 Products per page